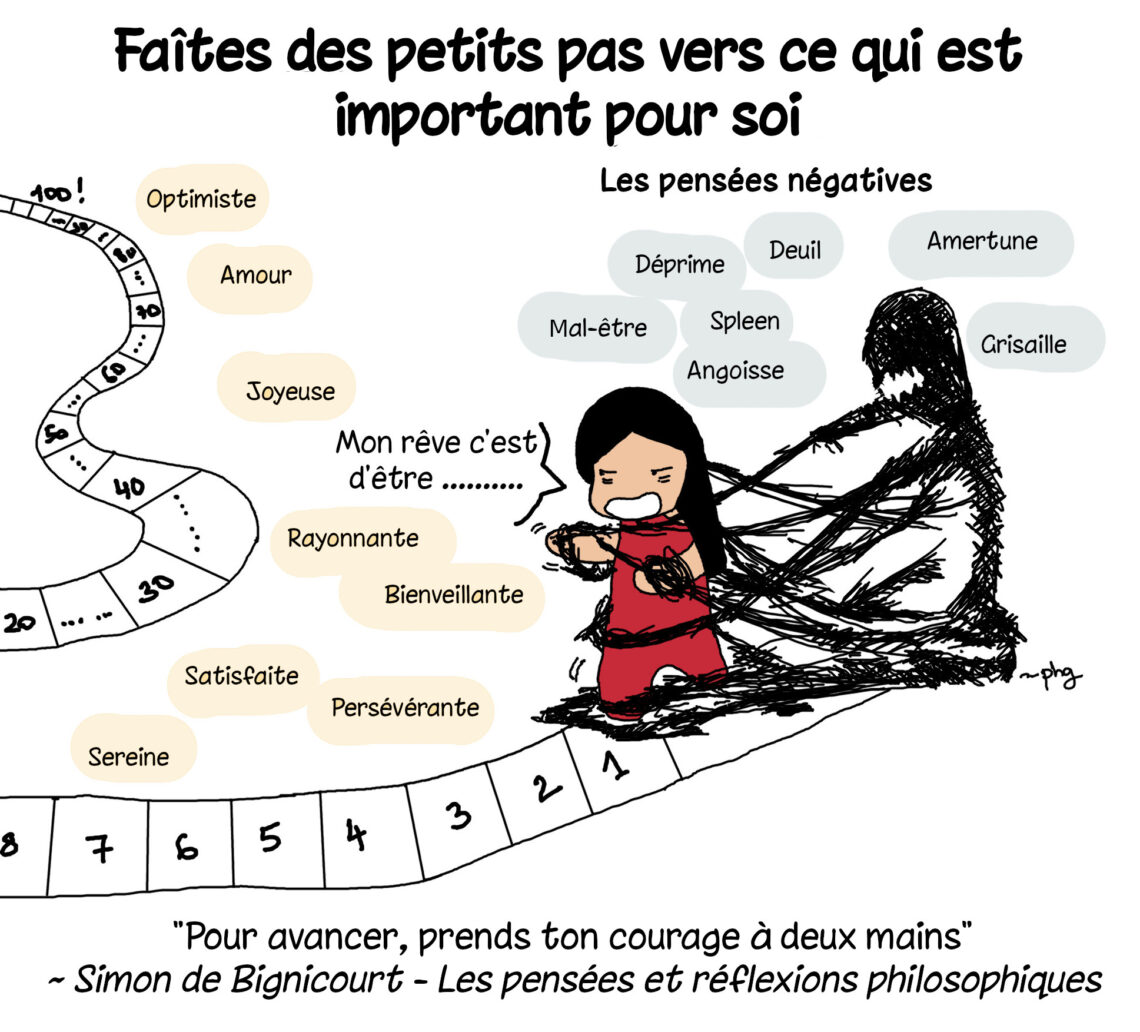 Do you know the Lilou Macé 100-day challenge?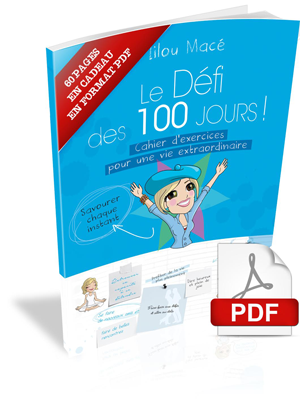 The principle is simple: you set goals you would like to achieve, you decide on a date to start the challenge, and you commit to doing your best to achieve them for the next 100 days!
December 18, 2015 was the date I started my first 100 day challenge. I had been struggling for two years with difficult challenges, and I really couldn't take it anymore. They didn't fit my choices and were unfairly imposed on me. I got stuck in negative resentments, my heart filled with explosive emotions. How to get out of this was out of the question for me, as I didn't want my children to think that life was all about mishaps and tears! On the contrary, rather than giving up and letting myself sink, I had to be the heroine of my life as I wanted them to be of theirs.
In the silence, I could hear myself crying out both in despair at what I couldn't do, and in hope for what I wanted to achieve… So for me, writing every day for 100 days was a far more surmountable act than the suffering I had already experienced and wanted to get out of. I had nothing to lose and everything to gain.
Armed with a 100 page notebook (one page for each day) and coloured pens to complement it all, I was off and running, ready to format my brain! I felt inside me that it was the right time, a strong intuition and a visceral force pushed me to get my head above water!
To tell you the truth, when I look at my daughters, they are my reason for living, they inspire me.
Days became weeks, then weeks became months and finally a year passed. Waaah time had flown by so fast, so busy creating my life path. The further I went, the more beauty and courage I saw in myself. My life has become interesting and exciting.
I am in my 12th season of the 100 day challenge and the results are spectacular, because after two years, after taking small actions on a daily basis and being patient, I have managed to achieve all my goals:
I was able to live in the city of my choice,
I have met a most charming companion,
I like my little nest where I finally feel at home and in my place,
I have a happy blended family,
I have a job where I can blossom, close to my home! I can't believe it!
I enjoy activities that seemed inaccessible to me: boxing and tango.
I am making beautiful and rewarding friendships!
And the most incredible thing is that I allow myself to have dreams!
The 100 day challenge is definitely a very effective personal development tool and one that I can't live without. I was able to show my children that, despite my small situation, we have everything we need to be happy, including the possibility of achieving our dreams.
Taking the first step (so day 1) was difficult for me: I was faced with a blank page… What to write? We should feel free to write down whatever comes to mind. We should not judge ourselves for what we write, but rather be kind to ourselves.
Taking small steps is like sowing seeds of love and positivity every day. Little by little, the dark thoughts fly away and don't weigh us down as much… Let's chase away the demon that holds us back and prevents us from moving forward! I managed to chase it away thanks to the 100 day challenge, this method was very effective for me and I hope it will be the same for you.
Know that it's not the goal that counts, it's the journey, your 99 steps, where you will do your best, cultivate gratitude and meet and savour little nuggets of happiness because you will remain attentive to the beauty of life! So remember to always smile at life!
These exercises made me realise that my daily life was not as uninteresting or boring (to others) as I had imagined. On the contrary, there are so many beautiful things to tell, to share, to say and to be thankful for in each day! Often, at bedtime, I say to myself that the days are far too short, and then I am all impatient to be the next day to live fully and continue my work, that of my own story 🙂
It's up to you now and don't let go!
The benefits of this method:
We are more motivated and attentive to our environment. We are more connected to life, which makes us experience magical moments through the manifestation of disturbing and unexpected coincidences! This is synchronicity.
We gain self-confidence and learn to love ourselves because we find our life interesting. We feel inhabited by life and filled with gratitude. You feel less alone and you feel like you belong.
We replace procrastination with small, simple and achievable actions every day to reach our goal.
We become aware of our great capacity and potential for creation.
We are proud of our evolution and of the fact that we are on the right track towards self-realisation.

To go further…
Lilou Macé's website: you will find complete information and tools around the 100 day challenge to transform your life in 100 days.
Lilou has already created 4 100-day challenge books on specific themes, such as "to live the magic every day", "to free your relationship with money", "to develop your intuition" and "to find your life mission".
"Penser et Agir" website: personal development through action! A site that I highly recommend as it is a mine of very interesting information. Don't forget, thinking is good but you have to ACT! We often forget that…
Mathieu Vénisse has made 100 videos (one per day), which can help you in your 100 day challenge: his videos "Acting Daily".