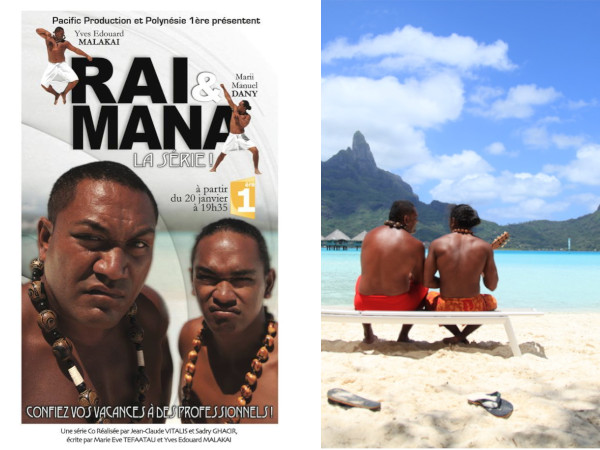 The Rai and Mana series (2014) – Polynesian culture
I love this comic duo from Bora Bora, Rai (Yves Edouard Malakai) and Mana (Manuel Marii Dany). They were inspired by their job in the hotel business to make these series of sketches of their daily life. We can thus see the essential of what it is necessary to know of the Polynesian culture. They make me laugh a lot and it's a pleasure to hear Tahitian words. The secret of their success: it's the desire to make people who are not in good spirits laugh! And I think they are good at it because there is this good-natured simplicity that I find nowhere else but in my fenua 🙂
How is pareo used in French Polynesia?
It makes me laugh a lot, I never thought of using my pareo to do the ghost and superman hahaha!
And then ask him to dress up as a Vahine (woman) hihi!
The flower in the ear
When I lived on the island of Moorea, I loved to wear a hibiscus flower in my ear. This duo will explain you how to wear them well because it has a special meaning! And we agree that codes 6 and 7 don't exist! hahaha!
Polynesian names
Hahaha… about that… I feel concerned by this name "Phong-Walker" hahaha : I don't know how to speak Tahitian and I forgot how to speak Chinese hihi !
Shark excursion
They do the sound effects from the movie "Jaws" too well! They make me laugh too much! Rai calls Mana a Ma'au (idiot, dummy)! This is not reassuring considering their explanation! I think I will do like the lady… go see the crabs haha!
Tupapa'u
When I say this word "Tupapa'u" (which means ghost, spirit), it makes Mimi laugh a lot! It's true that when we discover the Reo Maohi language, I find that there is a funny and good-natured side!
Postcard from Bora Bora
I hope this will make you want to discover the islands of French Polynesia!