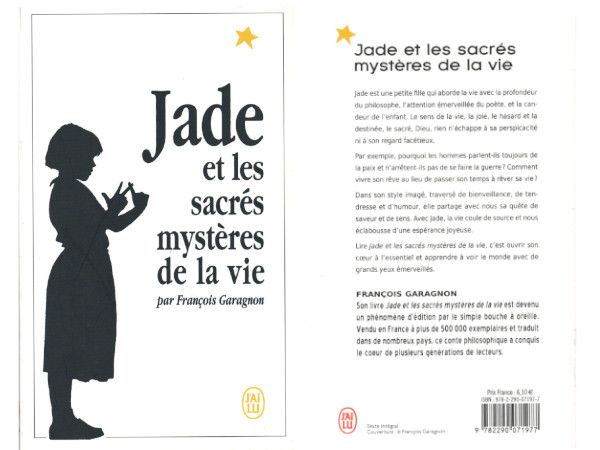 Jade and the Sacred Mysteries of Life by François Garagnon
I offer myself this book for Christmas because of this quote, discovered on the web, which I found very beautiful and which made me want to discover the pages of this book.
One recognizes true love when the silence of the other is no longer a void to be filled, but a complicity to be respected

François Garagnon
This book is very small and easy to read. And after I finished it, my heart felt soothed and like it was on cloud nine. It was just what I needed. It's a very nice philosophical tale with the same enchanting magic as The Alchemist and The Little Prince. This book touched me deeply, I shed tears from my first reading. I felt and saw the world as Jade did when I was a child. She knew how to put words where I never managed, on the sacred mysteries of life. It moved me.
Life is tenderness
Jade talks about the sacred mysteries of life that are manifested through tenderness. So this resonated even more strongly with me as I am feeling it around me. Jade's friends call her "Princess", so I identified with her even more easily. I really felt like Jade was a part of me as a child. There are really beautiful quotes and it is a wonder to read them, to discover them, it filled my heart with joy. I want to share with you the most beautiful ones that touch me deeply.
Jade is "all fire and flame
"She told me that she wanted to be not a woman, but a flame. She had heard somewhere the expression "all fire and flame", and she had firmly decided to be both for real" […].
It was a pure joy to hear her talk about her desire to be a flame, you could feel her enthusiasm and passion. His desire to be that flame that brings warmth and light to people. To be like a fire that doesn't burn out but illuminates. It is for me a tender and hopeful image. It makes me want to make my inner flame shine.
The presence of God
"One day, I woke up in the sunshine of happiness. It happens to me some days, I don't know why, I have so much blue sky inside me that I feel like I've eaten infinity."
Jade had a mystery to figure out about the presence of God who is supposed to be everywhere but can't be seen anywhere. I thought she was cute with her feelings ("feeling like I ate infinity"), her own way of experiencing this God. This sun in us that gets small because of a boastful person called the Ego. So I found these words beautiful to speak to us about this duality in us with our ego.
When he (God) says I love you, it is never with his lips, it is with full tenderness, with all the love in the world and then the accent of his country, and then also his way of making moments of eternity in the blink of an eye.
The inner landscapes
"He can make joy out of anything. Even with pain, even with suffering".
"If everyone locks himself up at home because he fears the rain, then the seasons pass monotonously, everyone remains sheltered from the most beautiful moods of nature, which in the human soul are called passions. And one dies without having truly tasted the flavor of those beautiful stormy nights that prepare the beauty of the following days, and the delicious bite of a burning sun again."
We must not forget that joy goes hand in hand with sadness. We all have rainy days, but that doesn't change the landscape because we are still ourselves. Like the passing seasons, life goes on, and nature always remains true to itself. Why deny the beauty of our changing emotions ? We must accept them and learn to live with them, without fear, and make them a strength to move forward in life.
"If you want, you can" or "If you believe, you can"
"Did you notice ? In believe, there is the word believe. The important thing is to have faith. That's why the teacher would do better to say: "If you believe, you can". That would be real advice. For the whole life. It is a fabulous discovery, the abandonment to the will of God".
It's true, I think we need both, first we need to want to make plans and then to believe in our plans, to know how to let go because we can't control everything in life, neither the actions of people, nor the unexpected… So yes, I agree, having faith in life is accepting that life has its share of mysteries and knows how to surprise us!
Freeing the source
"What is the use of hoarding in your heart ? Feelings that are not given are lost feelings!" When you understand this, you no longer give drip by drip, you give in cascade. The more the feelings flow, the more they arrive in a rush! The more you release your source, the bigger the flow! The more you give, the more you get richer…"
This passage was pretty funny. But how do you release that source ? How can we be a source of joy and love for others ?
Carpe diem
"Remember: you don't have time to waste. Life is too short to live it by halves… You must live the hours of your life to the fullest. Not all of them will be intense, of course, because life is made of contrasts. But you must not deny any of them".
You can never love too much. You can make mistakes, you can love badly, but you can never love enough. Never, you hear !
A great password for life
"Our three main passwords are : Carpe diem, Alleluia and Eureka. These are key words that fit into all the locks of life : they open all the doors, all of them !"
I'm going to apply these three passwords that I found very relevant. It's a great reminder, I thought: enjoy the moment, feel gratitude and then find solutions so that you live your dream instead of spending your time dreaming about your life.
The B-attitudes
"Raph', he often talks about happiness. According to him, there are three B-attitudes: The Beautiful, the Good and the Right.
In this chapter it talks about smiling at life to fight our bad mood and not contaminate around us. We must always keep smiling, it is the rule of happiness. It also starts from the use of words that can be the worst evils, and there are also different ranges of silence.
We recognize true love when the silence of the other is no longer a void to be filled, but a complicity to be respected.
Mr. Holy Spirit
"You have done everything you could. But good will is not active will, and active will is not necessarily the will of God. At other times, you do nothing, or not much, and things happen naturally, without the slightest problem. Sometimes all it takes is a gesture, a look, a smile, and everything unravels at once… ".
Here it speaks about our state of mind. This is how we manage to connect with our intuition, to communicate with Mr. Holy Spirit.
Bite the apple
"You wait for the sublime moment, you wait to arrive at the top of the mountain, at the end of the effort. Finally, you take it (the apple) out of your pocket, you shine it with your sleeve, you make it shine in the sun. It exhales a scent that makes your mouth water. And this is the moment. The moment when a simple apple sums up the flavor of life".
The effort brings the reward. I know this flavor well. As a child, I often brought my father a glass of wine while he worked in the field. We had to locate him. The images of that time remain engraved in my memory, I can still see his hand taking the glass I was holding out to him (it marked me because he didn't have all his fingers – he had lost some during the war). He was happy, and drank greedily. Then he would give me the glass back, saying he would like another one. I was happy to contribute to his joy. I could imagine that taste he had of the reward after the effort. It is a beautiful memory I have of him.
The God-winks
God is in the sun of the day […], in the eyes of mom when she looks at me with her great sun of tenderness
What are the winks of God ? If I understood correctly, that's what Jade calls the happy coincidences, the surprises, the states of being and the places where we feel light, it's joy, it's our desire to give sunshine around us… That's what God's blinks are, this infinite joy that we know how to define as providential. I found it beautiful, it's as if we were receiving knowing winks from God!
Live your life !
"But if you think about it: the destiny that will be born from your efforts, from your paths here and there, you did not really choose it. It was already contained in your life. You made it spring forth from you, you revealed it. If God had not made you body and spirit, he would not have given you the opportunity to live your life".
How do you live your life? Jade talks about cultivating seeds within us because it can yield wonderful flowers and praying. We become a light for ourselves and for others. This is the future of humanity. To be the mirror of the other, to show an example to others by being happy. I really like this vision. This is how we can offer our happiness to others by being happy.
"All the mystery of life is in your eyes. You just have to train them to see through the appearance of things".
The school of life
This book is for me a nugget of happiness ! Jade reminds us how to be ourselves and how to listen to our voice. I immediately told my daughters about this marvel and told them that if these chapters had been taught in school, I am sure it would have made me love school because school would really be the School of Life (?) My life would have a whole new flavor ? or would it have put an end to my soap bubbles ? I would have loved to have Jade as my childhood friend.
In any case, let's not forget that it's our life path that is the best school of life. And always make sure that your inner flame does not go out. Jade made me want to be "all fire"!
What about you? Have you read it and what did you think?