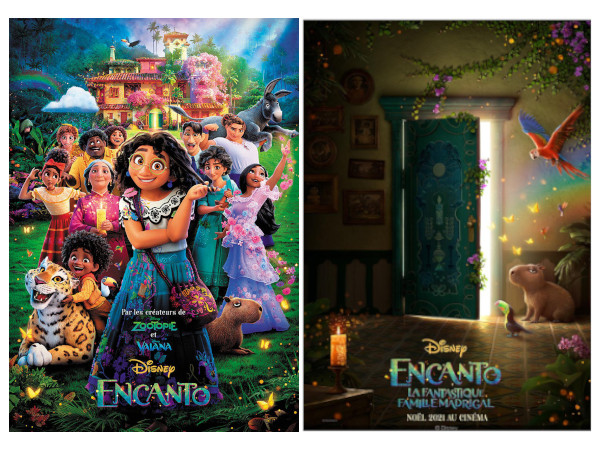 It was my oldest daughter who introduced me to this Disney cartoon that we watched together. And it always makes me happy that she wants to watch it with me. The word Encanto is a Spanish word that means "Charm" or "Enchantment" and then Abuela means Grandma and Casita means "Little House". These are words that you will hear often.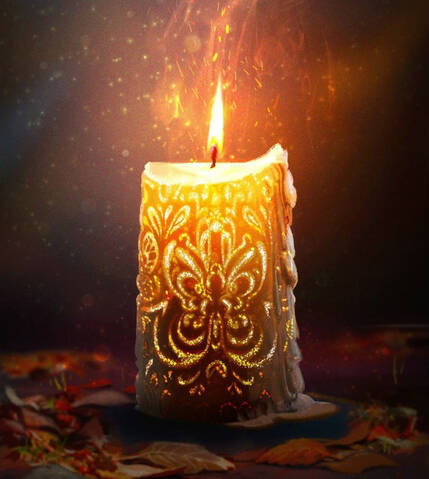 This is the story of the fantastic Madrigal family that lives in an enchanted house (Casita) in the village Encanto. This enchanted village was born after a tragedy suffered by the Abuela Madrigal: her husband was killed in a war leaving her and her three children battered. This moment gave birth to a flame that created an enchanted city. This enchanted candle is the lifeblood that has sustained the magic of the Casita and the powers of its occupants for generations. Each member is endowed with magical powers during their childhood. Except for one, Mirabel, who received no gifts during the traditional rite. She is now 15 years old and is frustrated at not having any powers and is trying to find her place in this family and be extraordinary in the eyes of her Abuela. But when she saw that the house is cracking and that the magic can't protect them anymore, she decides to understand the reasons of these cracks to be able to save it.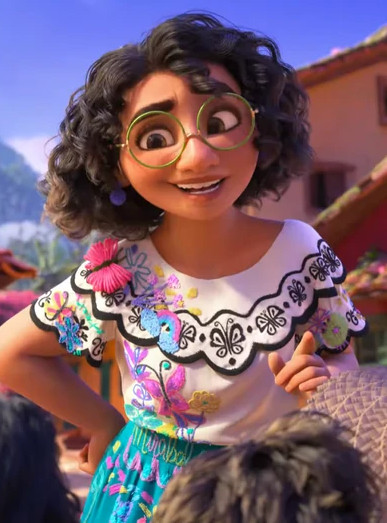 So I thought the title is very well chosen because everything is visually very beautiful. There is a very festive and colorful atmosphere! Moreover the clothes of the main heroine Mirabel is dressed with butterfly patterns! So I suspected my daughter to have plotted so that I could see butterflies but she didn't know anything about it, she wanted to discover this cartoon that her friend liked so much. So this aroused her curiosity.
This little teaser invites us to enter the "Colombia" universe (where we see butterflies)
At first I didn't plan to write an article about it because once the cartoon was over, my first impression was that I didn't like it! The songs in French were so loud and incomprehensible that I couldn't get into the story completely even though it's important since they allow the understanding of the story. Everything was too fast for me, the movements, the gestures and it did not please my brain hihi! There is only one song that I liked it is surface pressure car and the tempo of the beginning is really not bad at all, the English version is better.
If we take away the musical parts, I felt a strong and beautiful emotion that stayed with me for days after. This story of magical gifts made me dream! There are of course beautiful images of scenes, in particular at the sight of the golden butterflies. So much the better if you like the songs and the Colombian festive side. So I'm going to share with you what seduced me a lot in this animated film.
Magical gifts
This is the part of the story that I loved the most which is discovering Antonio's magical gift. Mirabel's cousin. I liked the gift he received from Maribel which makes sense because he loves animals. We could see the unfolding of the rite and I found it very beautiful visually, with the light of the candle, then the door that lights up … to let us discover treasures, the universe of Antonio. His room is thus grandiose where the villagers are invited to feast and enjoy the joys of his world.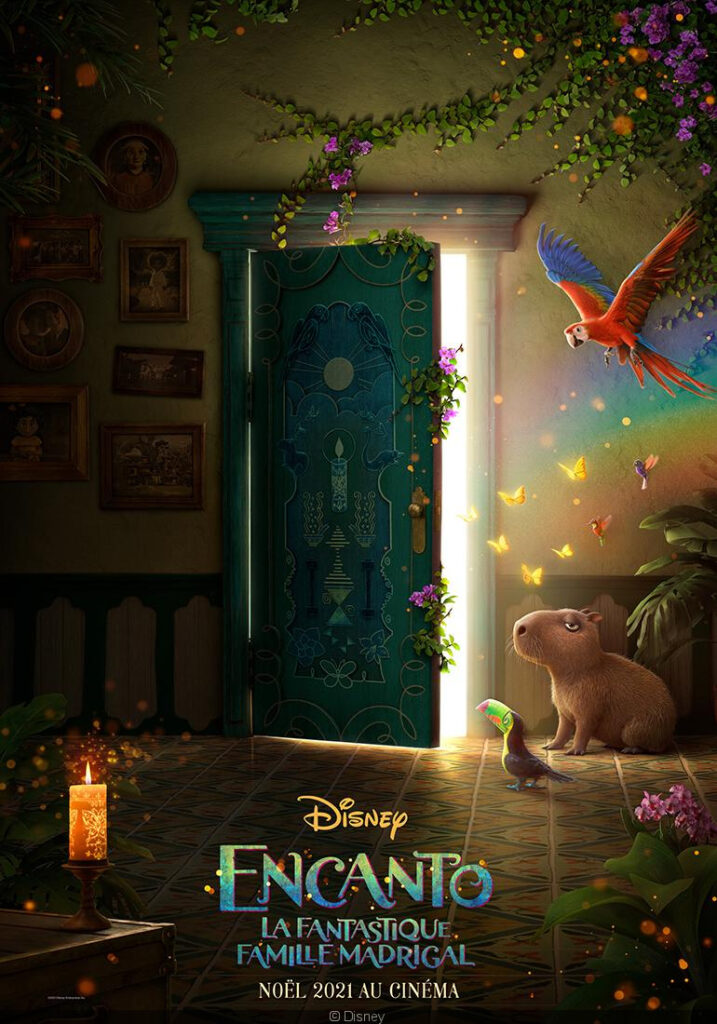 That's what made me dream, I started to imagine how it could be my world if I opened my door? And then my daughters' and my loved ones'? I saw all their beauty. I saw my daughters' beauty.
So I found that it's a great exercise to find out if we really know ourselves, who we are and what makes us tick. And if we can't easily imagine for example the universe of a friend, it's because we didn't take the time to know them and what they really are. It is a beautiful way to know ourselves better and to be attentive to others and especially to the people we love. I also started to imagine the world of my ex-toxics, what can I say? "Yuck!" It doesn't make me want to go there. It also teaches us to choose our relationships well according to their universe to have a loving and enriching relationship.
What is Mirabel's magical gift? Not having received a gift, she never knew how to find her place in her family. She feels that she is not perfect compared to her sister Isabela. Her mother always reminds her that she is exceptional the way she is. This is what the story wants to show us, that Mirabel is magical in her own way. That's why I found the ending very touching and remarkable. She has all the answers within her. The door to her heart is worth all the magic in the world! She is the key to save the magic "Encanto"!
A story of family healing
I love to contemplate a family tree of the one who built it with pride and love and who tells it to me. Mirabel tells it so well in song, but unfortunately she doesn't talk about herself, because she is ashamed of not being able to live up to this family. They live in harmony all together under the same roof. They use their powers to help the villagers. The love is there, but that doesn't stop Abuela Alma from making hurtful remarks about Mirabel. Alma wants everything to be perfect, everything to be done according to her rules to keep the Madrigal family's magic alive and protected.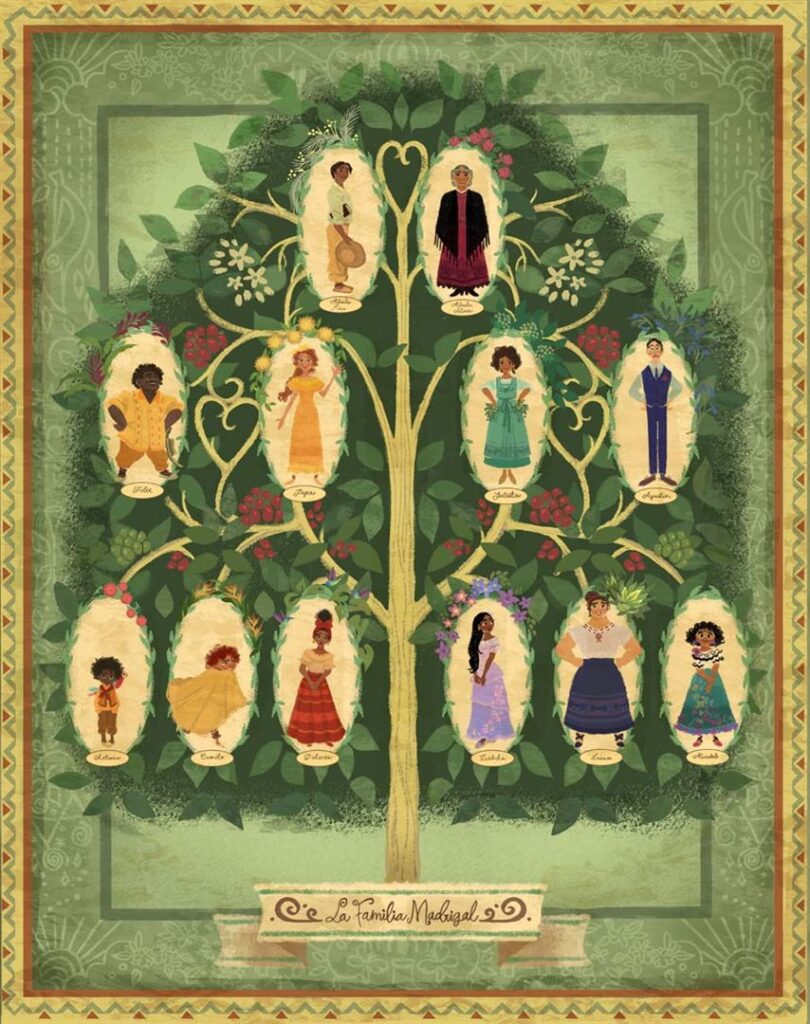 I loved the Casita which has its own personality. It protects its occupants and welcomes guests so well. She seems to be Mirabel's confidant and talks very well together. I like this idea of a house that is alive. I am sure that a house also has a soul. I have often felt when visiting a home where I felt insecure, something where my intuition told me that it would not be "home". I have always chosen a home by trusting my feelings. So when the "Casita" started to crack, Mirabel tried to find out the causes.
I found it interesting. When something is wrong, it's clear that you always have to go back to the source to be able to heal yourself properly and not cover it up with band-aids that won't help in the long run. So there is a real healing at the source. That's why I found this to be a story of family healing. Mirabel's quest will reveal family secrets. Abuela Alma has done everything to keep Mirabel from knowing about this terrible secret that has to do with her not having a gift. So she banished Bruno, her son who has the gift of seeing the future saw a tragic future. It is remarkable to see Mirabel's determination to do anything to change this tragic fate!
Bruno the medium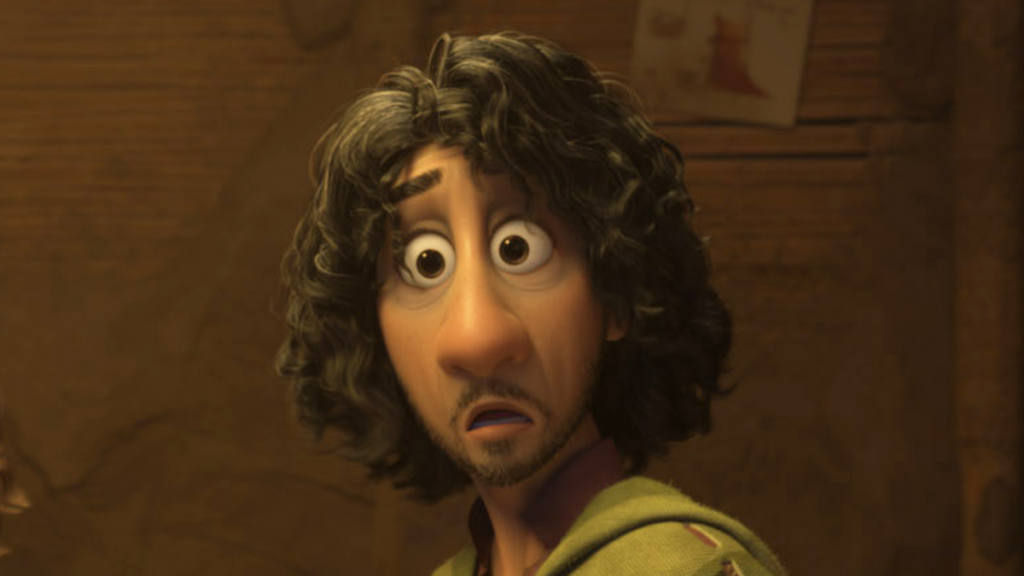 I found it so unfair that Bruno was banished from the Madrigal family, he is not even in the family tree. No one should talk about him because he is a bird of ill omen because he was always predicting bad news to the villagers. I love it when they say his name "Brouno".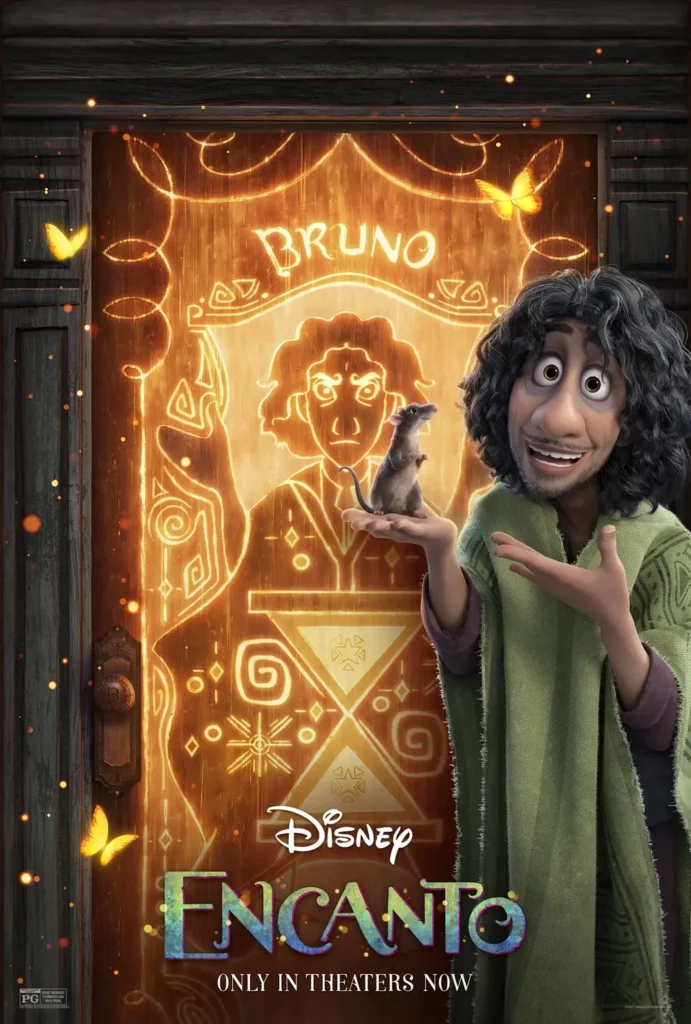 He is my favorite character. I love his wacky and good-natured personality. He makes me laugh with his rats who are his only friends. He didn't make many appearances but he made a big impression on me with his kindness of heart to want to protect his niece and to watch over his family from afar. Because he really loves his family very much.
So to see him reintegrate the family at the end, it moved me. A family portrait with Bruno was made to immortalize this moment. Beyond our imperfections, it is never too late to reconcile because family ties are the strongest.
The symbolism of the butterfly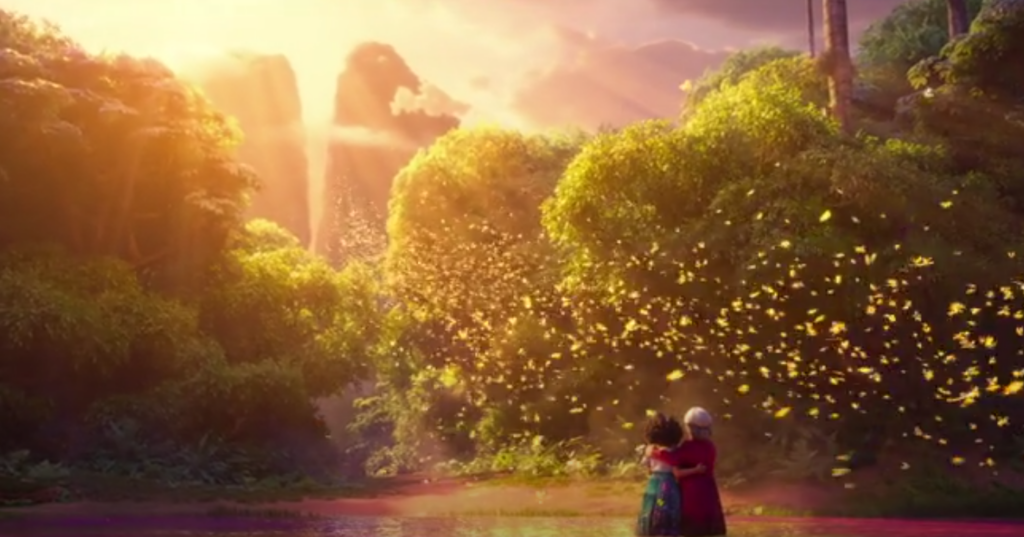 There is really a beautiful lesson of life around the acceptance of oneself, and to say that we are all exceptional with our singularity and our authenticity, we are unique. We have to stop doubting that. I know it's not easy because sometimes if I let myself go to my negative thoughts, I self-sabotage my self-esteem. We must not lose sight of the fact that we always have our place in the family as well as our place in the world no matter what.
Here the golden butterfly takes on a magical and divine side. It acts that the destruction can not be a tragedy, on the contrary, the death of a past is necessary to raze it in order to build a Casita with even more beautiful and solid foundations. I felt that this was not the end of something but a rebirth! A rebirth that is possible without magic (it shows that it is not good to be dependent on magic) and this thanks to the help of the villagers. Brotherhood and solidarity are the very heart of the film.