Twin Flames: Wholeness leads to the end of an ambiguous and toxic relationship
I followed my heart
At first, I felt guilty for not being able to let go of Peter Pan. My friends and family who know my values were hurt by my decision. It was difficult for them, and for me it was hard to take some of their feedback. I have always observed and analysed myself in the face of difficulties in order to be able to get my head above water. This experience is part of my life evolution. When I listened to my heart, each time, I felt more authentic in continuing my relationship with Peter Pan even though it was the riskiest path since I had to carry his betrayal of having chosen security with his wife rather than me.
During my dark night of the soul in April 2020 I was driven to research my emotions on the net, which I was feeling to the power of a thousand and where all my senses were awake, it was not 'human'. I could no longer cope with my overwhelming sensitivity, I was crying my eyes out at the beauty and the darkness of life. So for the first time in my life I consulted a medium because I suspected that what was happening to me was related to the world of the invisible. I came out of that session with this little booklet "Divine Messages, Messages from the Soul" and with a little message that I had to repeat to myself: "I deserve the best". This session gave me the solution: a return to myself, to love myself.
After that, I wanted to know if I had an extra-sensory gift and I looked for information on mediumship. This is how I discovered David Sabat's website. I knew immediately that I was in the right place because the logo with the moving sea made sense to me. And as soon as I visited his youtube channel, I found what I was experiencing: I was on a twin flame journey. So I realised that everything I was going through while on this journey was normal and not my imagination. Our soul recognition phase was triggered when Peter Pan held me in his arms. This awakened our love, our soul memories and all the soul wounds, especially the invisible wounds lurking deep within! Our protective armour for both of us began to crack little by little until it broke completely if we dared to confront it! So this was an opportunity to heal ourselves, to purify ourselves and to transmute our fears to reveal our inner light, divine love. Our ego did not like the fact that both of us brought our traumas to light, especially since it had not asked for anything and it fell on it.
It is confusing this twin flame journey, this unconscious and conscious game of our minds. I decided to take up the challenge, driven by the desire to regain that kingdom of tenderness that Peter Pan and I had built together. This kingdom was so beautiful, so full of meaning that I wanted to fight for it. I know myself perfectly and love has always been my main engine and motivation. It is the most beautiful and important thing in the world in my life. I didn't want to lose Peter Pan now that he had found me, that was the consistent thing for me. But would Peter Pan keep his promise not to let go of my hand? Would he be strong enough? So I followed my heart and I'll tell you why I decided to return to him and continue the twin flame adventure.
Acceptance of the twin flame link
Reason 1: A childhood promise "don't let go of my hand"
When I say that "I don't want him to let go of my hand no matter what", I'm not talking about a love relationship or a love commitment but about a person in my life that I can rely on. When I met him, he was really the bonus in my life, he made me happy. Peter Pan was the ideal friend I had always dreamed of having: a childhood friend, a confidant, an unfailing support on my life's path. I felt like I was reunited with a long lost friend. I told myself that I would never feel alone again and even in the difficult moments in my relationship, I had a shoulder to cry on. He carries the love of Taiwan with him and that made it even more meaningful, as well as sharing a mental world full of tenderness and daydreams.
You have to understand that since I arrived in France, I have often been very envious of people who tell me about their childhood friends with whom they are still in contact or near them, witnessing their evolution. The years passed and I didn't manage to keep a link with my friends in Tahiti. So my life in Tahiti suddenly seems blurred, as if I had never lived there. I also didn't like the distance from my family, feeling like an exile. I suffered a lot without showing it to anyone. I just don't talk about it. So when people around me saw us inseparable with Peter Pan, it made me happy. There was really no ambiguity between us, we were friends before our souls recognized each other. With him, I had the impression of going back in time, of reliving my life in reverse as if to heal my bad memories of the past, as if I had always been supported by a person, by a friend. That's why I wanted to find this friend from my childhood in this life. And I knew that I needed him to continue to heal myself, I felt in me that there are things to do together and not otherwise!
Reason 2: To love the soul
This is the first time I have loved a person's soul. I saw its strong potential for love and creativity. It is unconditional love. I had faith in him and his abilities.
Reason 3: Absolute trust in my twin
This is the first time I have met a person who is my twin, a physical resemblance, our smile etc. We share the same mental universe, we complement each other like a yin with its yang. We share the same mental universe, we complement each other like a yin with its yang. So I thought, he understands me so well, he completes me so well that he will never hurt me. I trusted him completely, blindly.
Reason 4: Previous life experience
This is the first time I have had a past life experience. Peter Pan and I are in the same boat and together we are experiencing this twin flame connection. No one knows what we are going through except each other as each other's stories are unique even though they tend to be self-referential. I thought we could help each other. She was the perfect person to heal each other.
Reason 5: The purpose of this course is self-love
I understood from David Sabat that the twin flame journey (he never categorises us as Runner/Chaser) is about learning to love ourselves with unconditional love by clearing all our fears and traumas. Wholeness is advised to balance our yin-yang polarity so that when the other rekindles our wounds, it is not a suffering for us. It is therefore the work on ourselves that is required. David Sabat insists on not fantasising about the reunion because the work on oneself aims to lead us to the original healing of our souls, to heal us from our very first separation in the egg. I have come to understand that you cannot cut a divine link. Love is there, eternally in our hearts even if the other is not physically there. The ideal support to accompany me was the oracle cards "Messages from your Twin Flame" which went on sale in summer 2020. These cards helped me not to become fixated on love with the other in the material, nor in the reunion in this life. The words of love for one's Other are very beautiful because they are eternal (out of matter) and do not take into account time or space. I used to shoot them to myself every 26th of the month, it was my little ritual but I stopped after my break up in May 2021 because I didn't feel the need anymore. This is where my passion for tarot cards & Oracles came from.
It is with these reasons in mind that I decided to return to Peter Pan a month after my dark night of the soul. He made it clear to me that he would never leave his wife. I respected his decision and his privacy with his wife. I really accepted in full consciousness this twin flame link as well as the consequences I was going to have to face, especially as I know perfectly well my weaknesses (including jealousy, injustice, betrayal towards a third person). On my side, I also made my choice, the one to choose myself for love in the light (this is David Sabat who whispered these words to me!) thanks to the 100 days challenge. I really had faith in the universe because when we had tensions between Peter Pan and me, we both received incredible synchronicities at the same time! Every sign that the universe sent me, I would catch them on the fly with gratitude! The 100 day challenge has always been a powerful tool for me in my personal development. I'll explain it to you below.
My 500 little steps
The objectives of my challenges:
Emotional Healing (from 13/08/2020 to 20/11/2020)
Letting Go (from 21/11/2020 to 28/02/2021)
Savouring life (from 01/03/2020 to 08/06/2021)
Exploring your divine part (from 09/06/2021 to 16/09/2021)
Wholeness (from 17/09/2021 to 25/12/2021)
I am a Treasure of Life, neither chaser nor runner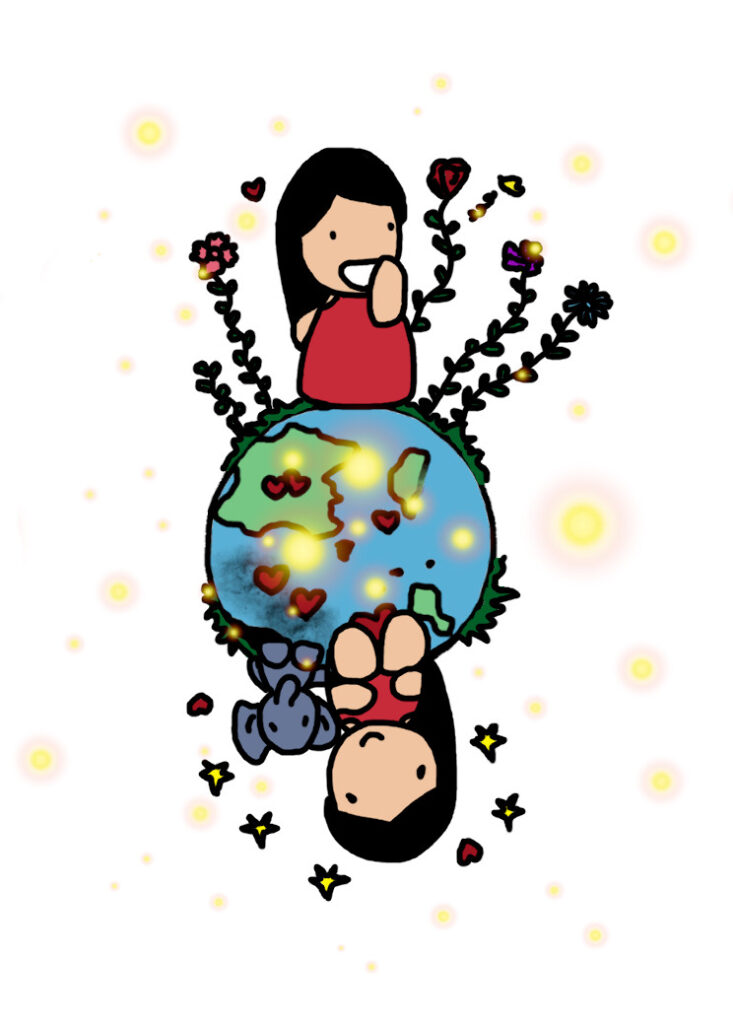 I remember that very first experience when I understood what it meant to have faith in life or by "the universe conspires to make your dreams come true". I had understood from my own experience that as soon as I acted for my greatest good with self-love, by taking a step, the universe supported me and gave me everything I needed at the right time. This is the law of attraction. I vibrate good energies with my body, mind and heart and the universe helps me to accomplish beautiful things by putting on my life path full of synchronicities, by unblocking situations by magic. It was the time when I was out of the hell of divorce with the father of my children. This is a part of my life that I am very proud of because I took my destiny into my own hands. I look at the experiences of my past to make them a strength in my present.
With this twin flame adventure, I realised that I had to relearn how to take my destiny in my own hands. That's why I liked the Tarot cards so much, because they tell a story about how life is cyclical, about transformation, about an end but a new beginning. In the meantime I had consulted other links around twin flames, as I was thirsty for answers whenever it became too painful for me. I wanted to understand why he always rejected me with determination without feeling remorse. From there I could see that he was the Runner with his false self and I was the Chaser controlling him, and that allowed me to work on my ego. But in itself, it doesn't matter if I'm a runner or a chaser because I'm first and foremost Hong-Gi, a treasure of life who does her best, always guided by her heart.
Time is my ally
There were days when I felt so vulnerable and in need of security and attention like a child in need of protective love (but where to find it?). It's normal to go through this vulnerable phase because I need to protect my early self-esteem from the wounds activated by Peter Pan. Fortunately, I have my two websites "Magic from Another World" and "Treasures of Life" which are my pillars of life, which make me proud and happy. It is with this in mind that I have started to relearn how to plant seeds of love for my daughters and myself. I want to create a supportive and safe environment. So I have been living out my dreams without expecting others (largely from Peter Pan about a writing/drawing collaboration, little mountain and sea outings, rollerblading together, support and tenderness etc) or approval from others.
The work on myself has paid off because time has been my ally. It allowed me to face the difficulties on my life path with much more ease. I was less vulnerable but more confident, so I could better assert myself whenever I felt not respected or loved by Peter Pan. Often it was to clarify things in order to get out of this ambiguous relationship where Peter Pan kept bringing me back. This often made me angry because Peter Pan is full of contradictions in his words that did not match his actions. I know him so well that over time I realised that I had to learn not to save him because only a professional can help him, but it is up to him to decide whether or not to consult. I no longer put myself in the position of "saviour" or of giving him advice because he has the impression that I am manipulating him. Also, I was quite busy with learning more about my new activities. I wanted to spend my energy on things that made me feel good.
As I worked on myself, I never lost sight of my goal to heal all my wounds. I really needed Peter Pan's love and support but he was often absent and I couldn't rely on him. This frustrated me a lot because I knew that together we would have been much stronger instead of being divided. So of course I worked over and over again on letting go and not being expectant because the Peter Pan mind is stubborn. I understood that waiting leads to disappointment and frustration. So I did what I had to do without thinking about the results. He thinks that together means putting himself in danger with regard to the meeting with his wife. I say his wife because he is really pushing himself consciously and unconsciously to make his wife always MY problem so that he doesn't see that HE is the problem. It's more reassuring for him to think that I'm forcing him to want to be in a relationship when I'm actually rejecting any rotten, toxic relationship that doesn't suit me anymore as I've increased my self-esteem. Time has been my ally!
Always connect to love
Since the beginning of the school year in September, I have started family therapy at the request of my youngest daughter, who was very unwell. This has been an emotional upheaval for all three of us. I had to relearn how to work on my relationship with my daughters so that a bond of trust and protection could be established with them. I questioned myself and didn't see that she had reached the limit of tolerance with one person. It poisoned our home as I was forcing them to go back to her during the holidays, I was unknowingly betraying them. So my relationship with her deteriorated, as well as with her sister. The therapy was successful, together we managed to give my youngest daughter a protective and trusting environment and home so that she could heal at her own pace. We restored new habits and set up small rituals in our daily life. It took three months to get us right and it didn't take a day to get back into a healthy, loving and trusting relationship.
I feel like I see myself in my daughter again, because she has the same emotional sensitivity as me. I understand perfectly what she is going through because I still carry within me anxiety attacks that have never gone away and which suddenly come to her! The work on my self-esteem had borne fruit, but it wasn't enough, since this person still has an unconscious hold on me. I need to work on this and the universe is giving me the opportunity to show my self-confidence, as I felt that it had prepared me for this battle. I care about my children's emotional health and I need to do something about it so that it doesn't poison their future lives. This person doesn't think they did anything wrong and doesn't care about how we feel. For a relationship to be healthy and harmonious, we have to want it to work and question ourselves. This is essential to prove that we care about the relationship, otherwise there is a total loss of trust.
So it made me think about my relationship with Peter Pan and I lost confidence in him too. I don't want an unstable person like Peter Pan in my life and my daughters' lives. I have tried to put aside the ambiguity of our relationship, hoping that he will really be there for me now that I need him (more than ever in the face of my daughter's unhappiness): to be a person I can cry in his arms, to be a person I can talk to about my problems and not just my joys. But above all, to have him show his support or tenderness with a simple hug or by taking my hand, because that's how I feel loved and important. But he preferred to let me make my own films, to talk to me about his problems which exist only in his head, or to speak on my behalf about my problems which I did not have. He can no longer give me tenderness because I am a threat to him. I have often told him to stop making excuses, because I have never asked him to do anything or reproached him for the many times he wanted to rebuild his life with his partner and for wanting to live abroad. I have never stopped him from doing what he wants to do, he does what he wants to do, he has free will. He is free. On the other hand, I've always bothered him about respect because it's linked to my self-love.
I had quite a few synchronicities manifest on my life path and some stressful situations were unblocked. I was eager to share all this with Peter Pan but as long as he kept me in an ambiguous and toxic relationship, I could not be free to be who I am with him for fear that he would sabotage my work. By following this path to self-love, I clearly integrated my life goals and values, and I could see clearly that Peter Pan was not connected to love but was a puppet of his mind.
When I see the work done with my daughters in therapy, the connection to love is the key to healing all ills in a relationship. That's why I took the 500 steps for myself but also to set an example for my children. The healing process takes time and patience. It takes time and patience to heal, to be kind and to respect each other's pace. I don't need to know if I'm a chaser or a runner or be a twin flame to understand when a relationship is unhealthy.
The path to my wholeness
The power of self-love
I knew that I had made good progress in my healing and in my self-love and that respect is really fundamental in all relationships. Now I don't care if Peter Pan is my twin flame or not, he won't get any special treatment! If he is toxic, I say so, and I no longer tolerate it. I assert myself, I distance myself, I cut. It's not because we love unconditionally that the other person thinks he has all the rights over me. I no longer saw him as a twin flame but as a person, Peter Pan.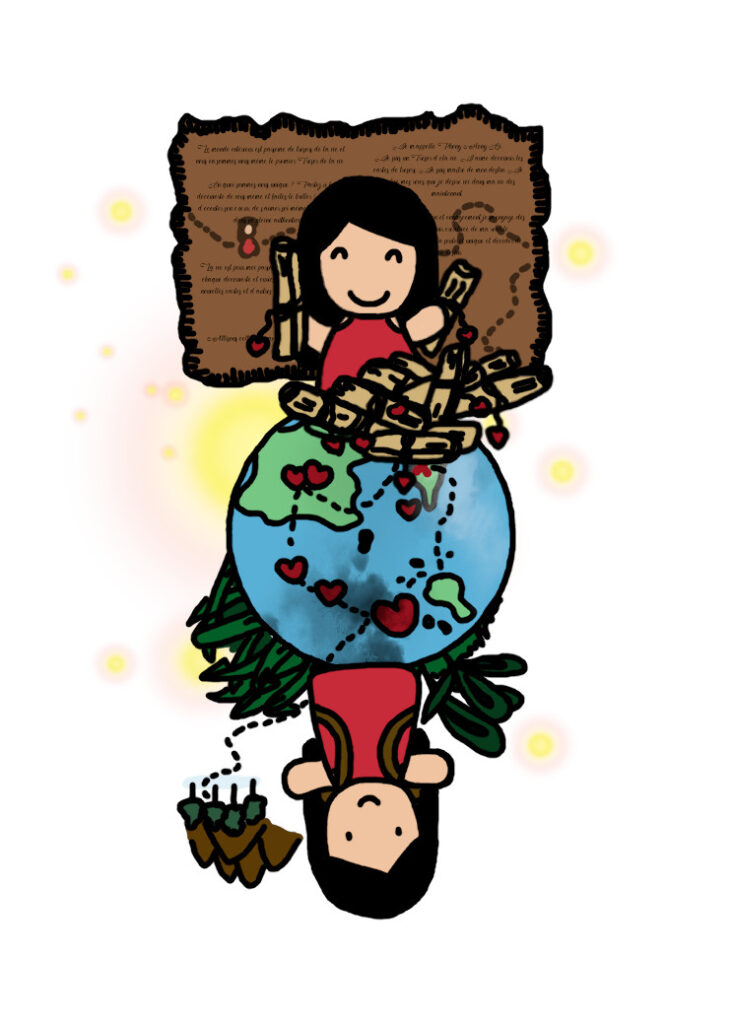 I have taken back my full power, the power to say "no" and to leave at any time without regret a situation or a person who no longer corresponds to my values, my life goals and my philosophy of life. I know that I want to explore treasures in my life and not explore treasures of toxicity. I need new energy to move forward.
I am suddenly full of dreams and inspiration. In fact, I'm working on emotional cards that will be presented like my three drawings that you see in this article. They are the pillars of my universe. My project is in gestation and I am creating a new website that I named "Atomic Mushroom" referring to my duality and inner unity.
It is no longer worth it
I know Peter Pan very well. I know he's not polyamorous because sometimes he tells me he didn't choose his wife, he just can't leave her. It is often said that not to choose is to make a choice, is he aware of this? For him choosing means giving up his wife and changing his way of living and thinking. This is what he does not want to do for fear of facing the consequences. So he does not position himself by not choosing. This is why it is his wife and I who take a stand against his (non)choice. His choice of life prevents him from seeing his path clearly, thus feeding many inconsistencies. He constantly finds himself in a dead end because he can't find a solution. This is why the only solution for him has been to keep me in an ambiguous and non-polyamorous relationship. His non-choice makes us both suffer.
He doesn't take risks so as not to hurt his wife by showing his special attachment to me in the open. He pushed me so hard that I was forced to break up in May 2021, so hyper toxic and manipulative was he, to the point that I had an anxiety attack generated by him as I felt submissive keeping me in a "want my cake and eat it too" situation!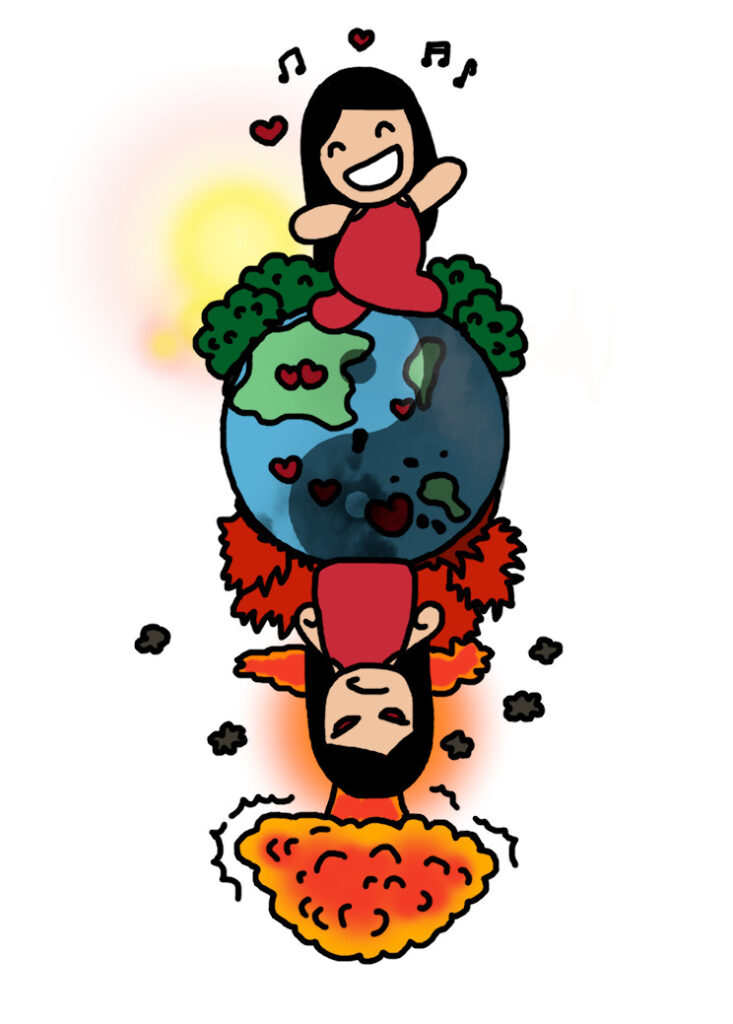 But then we met again towards the end of the summer, why do you ask? It was for two reasons:
– We were both free of this mystical bond from the past as a result of the break-up. I was experiencing a celebration within myself as a result of this liberation.
– He and his wife were living separately and considered themselves single even though they didn't really break up.
I dared to believe that we would be able to start over. I really thought he was going to let this new relationship be what it was meant to be, friendship or love? Either way it had to start with friendship! I wanted us to let life take care of it with our love vibrations. But unfortunately Peter Pan went from experiencing an ambiguous relationship to one that doesn't exist. I wanted to clarify things again because I had this certainty in me that our relationship did not exist. I explained to him that I wanted a friendly relationship by telling him about my friendships with my male friends how loved and important I felt. For example they didn't need to introduce me to their friends and family for me to exist so that's not what I want. He didn't get it.
Out of habit, Peter Pan tried to convince me otherwise, that my perception of the situation was wrong because it was biased by my wounds. I was wrong because I didn't work on myself enough so it's not his problem! I saw red like a mushroom cloud! He shamelessly trampled on my efforts (my 500 steps) that I started a year and a half ago. And he never helped me. I had a crying fit because he was so unfair. I thought of my daughters' kindness to him, to our relationship, and now to trample on me is to trample on my daughters! That's it, my daughters and I don't deserve this. To hurt me unfairly is to hurt them too.
So I gave up our relationship. That's not new, you might say! How is this break-up different? It's different because I've simply realised that the relationship is no longer worth it. Peter Pan makes no effort and just feeds our relationship with illusions and lies. His excuses and thanks no longer move me. His apologies are to make himself feel better but never with the intention of improving our relationship through action. I had to be content with that. The same goes for his thanks for my expressions of love. I feel that I am the only one who regularly maintains our relationship by showing love without receiving anything in return. This is why over time our relationship has become one of self-interest and not of sharing.
I told him it's okay, he won because he managed to completely eradicate the threat, me. He gave me all the evidence with his numerous rejections so that I could no longer trust him and I no longer believe in him with his inconsistencies. And above all he has conditioned my brain to his meeting with his wife and that he will have to cut all ties with me anyway. That's why he doesn't maintain our relationship. I have never been his friend and would not be the friend of the couple. Do you think his wife will accept that I am their friend when her husband has had an ambiguous relationship instead of a friendly one? I am already a taboo subject for her. I dreamt twice about his wife and him (when I never dreamt about his wife), I carried this feeling with me when I woke up that I was nothing to him, that I would not be a guest at his happy events, nor at his death if he suddenly died tomorrow for example. But I can understand Peter Pan's mind perfectly well because I am THE problem delaying their meeting. So I have understood my place, I am only energy and flesh food. Once the energy food is consumed, he doesn't take care of it. He leaves and comes back as he pleases. And when he's screwed up good every time, he always takes refuge in his hometown for a week, leaving me alone with the storm he's created. I didn't feel respected.
The schmilblick relationship
As for the comic book "Les Aventures de Blanbeck et Graubidou", at the beginning I was very happy because he had always told me that he would like us to work together and I was waiting for that! I didn't understand why he didn't write about our lovely tale "Princess Butterfly and Ocean" on our joint website. I was disappointed and saddened. But then I excused him for many things. But this time he was so motivated and for the first time he was in action! That made me happy! I had a lot of fun drawing us because I found all the positive and loving ingredients of our bond, of this childhood friend, as if we had shared a lot of things since always. Especially since Graubidou is really me. That's what he calls me to make fun of me and I call him Blanbeck or Poca Luz! It's clearly the two of us, otherwise I wouldn't have drawn myself in my red dress and him in his yellow sweatshirt with his glasses, because I always told him that I thought he looked good in his sunny yellow sweatshirt. It was very hurtful to me that he denied it was us. And then as the days went by, I felt that our relationship didn't exist. The trust is no longer there. So I stopped the Blanbeck and Graubidou comic. I was no longer inspired to draw us. Besides, I always knew that it was a way for Peter Pan to reassure his mind because he doesn't take any risks by living our bond in this comic book rather than in real life. All the joy of his inner child and his fantasies he projects into this comic and not into our relationship. Do I really exist in his reality? So when Peter Pan told me that I was one of his ex-girlfriends (along with his wife) and that they meant a lot to him. It was even more hurtful to me because they have a relationship in the open.
The following articles (french version) answer my reasons for giving up very well:
What to do when the Chaser has bowed out?
Is the runner really unconscious?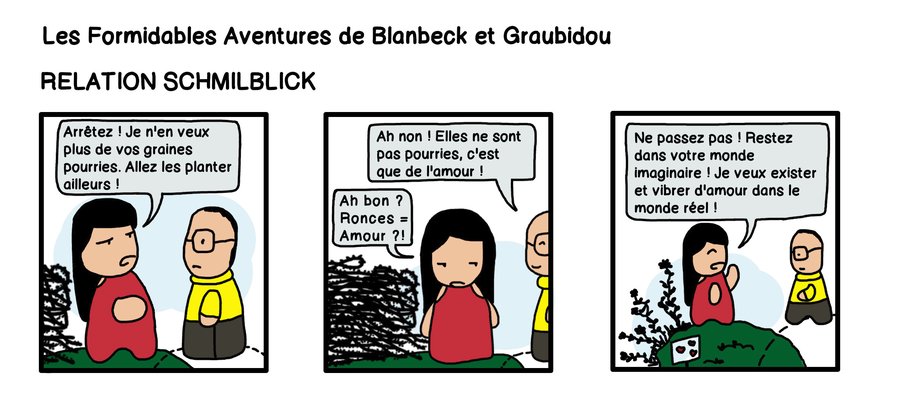 A non-existent relationship
Peter Pan believes that our special twin flame attachment should not be experienced in matter. This is his way of telling me that he doesn't want to be in a relationship with me but with his wife. This is not new. He has conditioned me. Now it bothers me that he talks to me about love because he has rejected all forms of love in our relationship so much that these words sound false to me. It's mostly that my brain hasn't understood anything because in my life, 90% of my family and friends are far away from me! They are not physically there. I have known how to live and maintain a long-distance relationship with my family and friends for many years. We have been able to show our love for each other, I have always felt loved and important without being able to see them physically and without having known and seen their circle of friends or family. This is still the case with my new pen pals abroad, friendships have been created from a distance (to work on my belief that travel is possible). I feel loved and respected. Distance and physical lack have not prevented the relationship from existing. I exist for them. Moreover, I have already experienced long-distance love with my ex-husband, a military man who is often absent. Or with Nounours during the first year we met. That's why I know I don't want to share my life with a life partner who is often absent! I know how to deal with this physical absence if I have to in a love relationship. I have also experienced the love of my loved ones, my nephew and my father where I was absent at their funerals, but I carry love in my heart for eternity. So when Peter Pan tells me that I am wrong and that I exist, I don't believe him from my experience of my relationships.
I know that now I want to balance my 90% because I feel a lack in me, I want to balance my outside world, and to do that I try to create a social link in my city. It is my dearest wish, not to feel alone and to have at least one male friend who could lend me his arms to cry in my city. I know that it is with a man that I can have this comfort (it must be because of my experience that I have missed in my life a protection). I thought it could be Peter Pan this person. But no, our relationship does not exist. I am fine with that since Peter Pan is unable to have a simple relationship with me.
I realised, as a friend, he's not worth it. He thinks I'm unhappy without him because I've wanted to be happy in a relationship for too long and I'm waiting for him. I don't think I'm waiting for him because with all the work I've done on myself I didn't need to be in a relationship to be happy. I'm already happy, can't he see that? I know I deserve the best in any relationship. I'm just sad. But it took me a year and a half to understand that we can't be friends. It's not our relationship that's complicated, it's him that's complicated. He has turned our relationship into a schmilblick!
"I deserve the best"
Release from a repetitive pattern
I noticed that every time I broke up with someone, I always prostituted myself for crumbs of love. And then I felt bad about it and I felt dirty. Finally, with Peter Pan, I also prostituted myself by accepting to be his mistress, even though his wife knew about it, but it was agreed between them not to talk about their extramarital affairs during their break. Since that day, my self-esteem has plummeted! The more he rejected me, the more I felt like a failure, not good enough for his wife. The fall was terrible the day Peter Pan went hiking with his wife and was therefore not available for me. I thought about the many times he told me that I would find someone better suited to me than him. I was so bad that I attracted a guy that I asked the universe for. I almost prostituted myself with a neighbour in my building for love crumbs. This neighbour had recently broken up with his ex and was desperate to go out with me and have sex with me to get over his ex! I didn't like it, but wasn't that what I was about to do too? I could see that I didn't respect myself at all. This man did not move me at all, did not touch my already bruised heart.
The connection to the heart is important to me, vital. I am proud of myself for respecting myself. I know I am a faithful person when I have chosen fully to love that person with full awareness. I can't make love with someone else. I love this word "choose", when you choose a person among many others, you show them every day that they are special, you choose them. Well, as a friend, he didn't choose me.
As a result of this first step, I was approached by pick-up artists and because I was firm in what I wanted, I was no longer being approached by men. I assure you that if you don't vibrate properly, you attract men who reflect your zero self-esteem.
Peter Pan's mind is really the king of his own because he once told me with conviction that he had never treated our relationship as ambiguous but rather loving. Is that so? So I watched him all day long on a mountain trip. And in the evening, I proved the facts to him. He was not behaving like a lover. I gave him concrete proof and he admitted to me that it was true, that it wasn't me who had misperceived things. And another time when I pointed out to him that he thought I was a sex friend, I'm only here for sex. Of course he denies all this but the day I felt more and more that our sexuality was empty, without love, without tenderness, not vibrant at all. I told him so and talked about breaking up because I'm not interested. So he quickly found moments of sharing with me that I had been waiting for for a long time: he taught me taichi, that allowed me to create things together other than sex. And he was also motivated to create a comic book "The wonderful adventures of Blanbeck and Graubidou". He had told me that he wanted to train together to speak Chinese or that he would like to go rollerblading together, but it didn't happen. I'm used to his words in the conditional tense never showing up. I have clearly prostituted myself to get some tenderness from him, it's not love in love that I want but simple and healthy tenderness.
The universe tested me when I broke up with Peter Pan. A suitor 'forgot' me after a year and contacted me. I had deleted his phone number because he was not a decent person. Then he asked me to meet him because at the time I told him I didn't want a serious relationship. "Is that still the case?" In my mind I think, well if in the end I want to be in a serious relationship but that's not the point because never when I meet a person I think I'm going to make a life with him, I always let my relationship be what it should be by not skipping steps: get to know each other first and always let the relationship become what it should be. He made me very angry, he was heavy and insistent. For him I am single and free, it doesn't matter if we sleep together. For the first time I knew how to put him in his place because I didn't feel respected by what he had just said to me and for the first time I dared to tell him that I didn't like his proposal and that I'd rather be alone than badly accompanied.
For the first time, I felt my value: I deserve the best! And then I understood that the universe was testing me. I understood that I was finally out of this pattern, finally cured! If a man came to me, I wasn't able to say no to every break-up, or when I need comfort, tenderness. But you can have tenderness with a man without sex, can't you? I cried with gratitude and joy to know my natural value. I felt so much love for myself.
What about this twin flame connection? What do we do with it?
A great opportunity presented itself to me, I was able to have a phone conversation with Alexis Faure (author of the website Change your perception). Basically he explained to me that I was like a heroin addict with my twin flame. Yes, that's right, I got high from our Kingdom of Tenderness. It was like a drug and I needed to be weaned, and weaning is "wholeness", "self love".
I asked Alexis that I didn't understand because for me the fact that I had met Nounours who is not toxic and who has become my best friend, I was convinced that I was cured of this pattern, I am sure of it. So what had happened? So Alexis explained to me my thought pattern for the relationship:
I attract A (toxic relationship) and I want B (not toxic). And Peter Pan is a B masked by A, I saw his potential B but my mistake is to expect him to be B because it's not up to me but to him (his free will). And that's the rub because it can take years or a lifetime (or an incarnation) for him to decide to be B! So I must not waste my time because there are other Bs waiting. This is the trap I fell into. That's what I need to deconstruct. So the reasons that pushed me to continue to see it in the beginning, with the 100 day challenge and the work of self love, this belief deconstructed itself in a natural way.
My whole journey has allowed me to desacralise this twin flame link. I find it terrible to give power to the Runner to be the bearer of the reunion and terrible to think that if the Chaser does not work on himself, the Runner will not want to reunite. In this bond it is ultimately a love with conditions. I'm not interested in that. Also, there are very few testimonies of twin flames reunited on the web. For me, I just realised that I don't want to give power to either one person or a spiritual link to decide my happiness!
Now I have to learn to vibrate a real B because as I am rebuilding, I doubt myself by sometimes vibrating an A then B, then B to A. I can do this and even faster if I practice EFT (Emotional Freedom Techniques) to free myself from my negative emotions. It will help me with all the difficult relationships and situations I encounter in my life. So I think I will try EFT out of curiosity. Don't hesitate to contact Alexis for EFT coaching if you can't do it alone!
My full power
During our break-up, a month later, my twin flame had a great opportunity to explain himself to save our relationship if he wanted to but I didn't appreciate his "winning" look. I found him pitiful. He dared to tell me his choice, neither his wife nor me but him: "I choose myself". But I don't really care, because I'm not part of his life anymore.
He doesn't know what the future holds with his wife but he doesn't want it to be a friendship or for her to be an ex. So to me he's not telling me anything new, he's going to have a new life with his wife even though he says "I don't know". Because with my ex-Bear, we are good friends and there is no ambiguity. So with his wife, they haven't broken up.
Since I'm determined to break up with him, he wants me to believe that whatever I decide, we'll be reunited even if I don't feel like it any more, that's the message he's understood from these synchronicities: the universe is with us and it will reunite us. He thinks he doesn't need to do or change anything. We will come together miraculously without any effort on his part, which is why he has always taken me for granted because of his misinterpretation of synchronicities. Whereas from the beginning, I can see that the universe is pushing him to position himself and to choose in full consciousness to transform himself. This is why I can't stand it when he talks to me about his synchronicities because he prefers to stay in his past life dynamics. The universe does not have the power to bring two people together if one does not act (the principle of free will) and if he does not take the first step to live this adventure by following his heart. Peter Pan can always talk about our connection, but if it remains words and thoughts that do not materialise, the relationship between us cannot exist. If he wants to live our love relationship in his head, it will be without me! I no longer want to feed his fantasy by being his energetic and carnal food.
It's really distressing, I was speechless. I congratulate him for choosing himself for love, it's about time! As for me, I made it easy for him by leaving him, because this way he will be able to win back his wife easily since I am no longer a danger to their relationship. I don't want to hear about him anymore. I really wish him to be happy with his wife. His way of loving doesn't thrill me anymore so if it thrills those around him and especially his wife, then I'm happy for them. So they will have to work to find their joy in being together. So it's good that he's starting to work on himself by choosing himself so he can offer his wife a healthy and confident kingdom of tenderness. I no longer trust him, my limiting beliefs/reasons from the beginning have been deconstructed.
I am truly filled with gratitude, as each time, life is holding out the pole for me to continue to know myself better, love myself and respect myself. I deserve the best, so I will invest in relationships that are worthwhile for me. Besides, I know I am protected because I receive spiritual gifts through the appearance of butterflies in my daily life.
The Golden Butterfly in itself
Butterflies are for me spiritual gifts from the universe when I'm often in trouble since the beginning of this adventure! I talked about it in this article "the butterfly, my messenger". I sometimes receive quite a few synchronicities that connect me to my twin flame in an indirect way. For example when I watched this video "Twin Flames – The breaking point… End of the link or ultimate liberation? I was immediately touched by the vision of the golden butterfly and the lotus flower. For me the butterfly is me and the lotus flower is my twin flame (he had offered me origami lotus flowers). I was thus able to discover the site of Jérôme Lebrat. I let you admire his site "Le Papillon d'Or en soi" (The Golden Butterfly in oneself) whose subtitles are for me very telling.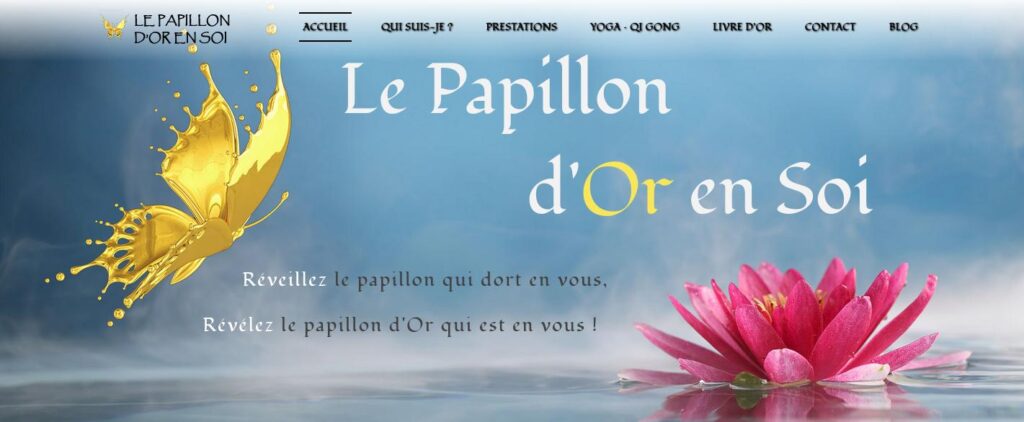 My twin flame tells me that self-love is a long journey. I know this because I am the proof of it. He doesn't need to remind me. He should rather ACT, he should start by observing and sorting his seeds to plant them, plant the seeds of self-love and then make them grow, bloom, shine and then share them around him. My twin flame had told me that he didn't want to stay on a failure and not to want to give up because otherwise he would have missed out on understanding the du Tao 道 of taichi. So I thought it was amazing that in this video, Jerome Lebrat mentioned the Tao of taichi. So I was thinking "Is it true that my twin flame doesn't want to give up?" With everything that had happened between us, I confess that I no longer believe in him.
The door to change can only be opened from within. Everyone holds the key

Jacques Salomé
In any case, break-up or not, don't get caught up in this special FJ journey link, accept all the surprises and the most wonderful gifts of life. Always continue to follow your heart. Your decision will always be right for you in line with your goals and values. Our connection and this twin flame journey, I have always fully accepted it with my full awareness as a spiritual gift as it is with its beauty and darkness.
Don't forget that this life is real and we need to live it in matter, we need gifts in matter but also spiritual gifts which are the surprises/synchronicities of life. For me, material and spiritual gifts are inseparable in life. Moreover my learning of Reiki has done me a lot of good in my difficult moments, it has allowed me to have a certain inner peace. I have the impression that it will allow me to awaken "my golden butterfly within"! My encounter with a holistic psychologist is a spiritual gift for me. Ever since I was a little girl, I have always believed in the existence of an energy rather than the existence of God. As I grew up I liked to call this energy the Universe. So it appealed to me that the practice of Reiki is about taking the energy of the Universe to balance the internal energy.
For me this connection with my twin flame is part of my life forever because I have found a childhood friend, my love from a previous life. It was linked to my love for the universe and its mysteries. This twin flame connection is one of those mysteries that I have experienced. Now I move on to a new cycle of my life and I store it in my heart with gratitude and love. My life follows its course.
Fighting for our happiness
I realised that the world does not only need our dreams,
it also needs our creations.
Peter Pan will not find what he is looking for until he has experienced the way of the heart. I prefer to leave him in his fantasy world. That is his right. I don't regret it because I gave my all to this relationship with Peter Pan while maintaining my inner flame with all the darkness he sent me. Love and words are not enough because they must be manifested in matter. This is what I do every day to show my love for my daughters so that together we can build a safe inner sanctuary. Besides, we are fighting together to get out of the toxicity of a family relationship. We deserve the best!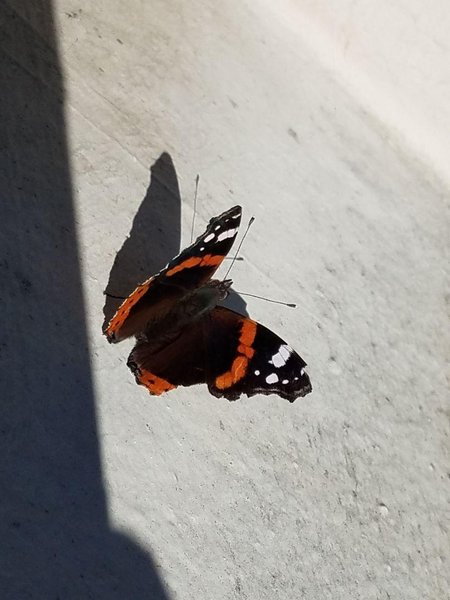 On December 19, the hardest part was overcome, it's a well-deserved rest on this Sunday even if it's the beginning of a long legal battle that awaits us. I had to start preparing for it. While I was having lunch, I saw a butterfly flying through the window curtains. This is the first time I've seen one fly up to me, to the third floor, and in winter! It had landed on my windowsill! It did not fly away when the window was opened. I was able to take a picture of him as if he wanted me to feel his full presence. I could see him so perfectly as if he wanted to tell me "Courage, we are here to help you, keep the faith". He wasn't scared at all, I felt like I could take him with me if I wanted to.
Our Christmas present
I have faith in life. The butterflies are now engraved in me, all around me and in my art. This is my reward. A new story can be written, made of meaning, with self-respect! This is the beautiful life lesson of this current 100 days challenge around the completeness, it will end on December 25th. This is the most beautiful Christmas gift that the girls and I offer to ourselves. The universe is giving us the opportunity to break once and for all this toxic hold that has lasted far too long. This is a big step for us and we can be proud of it and no one has the right to spit and trample on our efforts! I won't allow it anymore!
The key to the heart is the path of authenticity!
So tell me where you are in the way of your heart?